Dental Technology

Surprise, AZ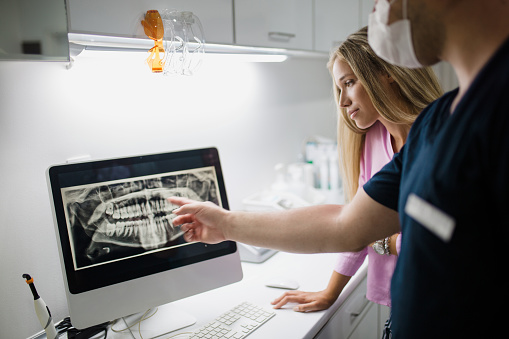 Dental technology is not just important, it is vital to caring for our patients. Technology helps us to impact our world and the lives of our patients. Technology also helps you communicate with your family, it serves as your entertainment, and it even helps you drive your car without an accident. Dental technology gives us the opportunity to help our patients with less pain, and faster results. If you aren't sure about how we use dental technology at our office let Surprise Oral & Implant Surgery give you information about the wonders of dental technology.


Soft Tissue Laser

One of our favorite tools to use is our soft tissue laser. The laser has revolutionized oral surgery. We can use soft tissue lasers in lots of our surgical procedures to help our patients. Soft tissue lasers can be used to fight gum disease, which is a huge problem for many of our patients. Instead of using scrapers and scalpels to scrape tartar and plaque from your gumline, the laser removes the plaque and tartar without bleeding and without pain. When we use soft tissue lasers, we are able to do lots of different oral procedures without sutures. This results in faster healing time, and far less discomfort for our patients.


Digital Panoramic X-Rays

When we need comprehensive pictures of your mouth, we use a digital panoramic x-ray. These x-rays don't involve development time, they are produced instantly. We are able to look at your digital x-rays across all of the screens in our office, which means that we can share information in our practice. Digital x-rays also allow us clear pictures of your dental issues so we can treat them correctly. For example, if you are having surgery because your wisdom teeth are impacted, these digital x-rays allow us to see where the impaction is, and what we will need to do to take out your impacted tooth.


Intraoral Camera

Along with digital x-rays, we can use intraoral cameras to help us diagnose problems in your mouth. Intraoral cameras are tiny cameras that fit right into your mouth, and allow us to see potential problem areas, no matter how small they might be. For example, the intraoral camera allows us to spot a small lesion in your mouth that we may need to do a biopsy on, before you even know it's there.


Micro Dentistry

We also use microdentistry to perform procedures on our patients who have health challenges. For those patients, it is really important that they don't have swelling or a lot of bleeding. Patients who have bleeding disorders, heart disease, are immunodeficient, or who have diabetes need to be handled carefully so our procedures don't impact their overall health.

We are in love with our dental technology! If you are interested in learning more information about dental technology, and how we use it in our practice, why not give Surprise Oral & Implant Surgery a call at (623) 263-5042? We would love to take some time to talk to you about dental technology and its role in reducing pain, bleeding and swelling.